BOOK TITLE
'CIPHERS Of Uncommon Origin - Poems By Ana Elsner', Volume I (-The image on the left shows the cover of the original manuscript as it was submitted to InstaPLANET Press by the author.-) . BOOK DESCRIPTION 28p.; 22cm; full color semi-gloss cover; First Edition June 2007; also available, a Limited Edition of author-signed and numbered copies. Ana Elsner's "CIPHERS Of Uncommon Origin" is the first title in the InstaPLANET Press Language Maker Poetry Series.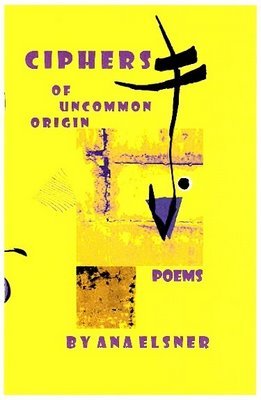 POET'S STATEMENT
. "My work is seasoned by a life lived in a great diversity of cultural contexts, which enables me to transcend the limits of one-dimensionality. Although I have always been a writer, the surefootedness of my own unique poetic voice did not come to me until the late 1980s. And with this new voice I hope to enrich not just my own literary landscape, but also that of others who have a passion for bold and multifaceted poetry. I consider my poems to be ageless and intellectually and emotionally accessible to a broad and diverse readership. I welcome you as a member of that readership." . Ana Elsner, 2007
ANA ELSNER ON STAGE AT THE RANDALL THEATRE

This is a documentary film clip of Ana Elsner reading from "Ciphers of Uncommon Origin"
and from her new manuscript "Resurrected Omissions"
live at the Randall Theatre, Corona Heights in San Francisco
in March 2009
- - -




ABOUT THE AUTHOR
Ana Elsner was born in post-war Germany and educated in Europe before she decided to make her home in the US. She straddles two continents and is tri-lingual. Now retired, she is engaged in writing poetry and essays, translating the works of German-language poets into English, and supporting a variety of causes as an advisor and volunteer. Her poetry has a welcome global perspective.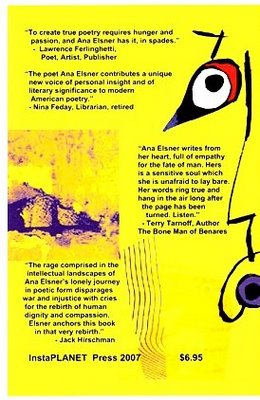 COMMENTS AND REVIEWS
. To create true poetry requires hunger and passion, and Ana Elsner has it, in spades,
- Lawrence Ferlinghetti, Poet, Artist, Publisher, City Lights Books, San Francisco The poet Ana Elsner contributes a unique new voice of personal insight and of literary significance to modern American poetry,
- Nina Feday, Librarian, retired Ana Elsner writes from her heart, full of empathy for the fate of man. Hers is a sensitive soul which she is unafraid to lay bare. Her words ring true and hang in the air long after the page has been turned. Listen,
- Terry Tarnoff, Author of 'The Bone Man of Benares' The rage comprised in the intellectual landscapes of Ana Elsner's lonely journey in poetic form disparages war and injustice with cries for the rebirth of human dignity and compassion. Elsner anchors this book in that very rebirth,
- Jack Hirschman, San Francisco Poet Laureate
BUY THE BOOK - ORDER ADDITIONAL COPIES
_____________________________________________________________________________ Attention Bookstores, Libraries and Individuals: To order copies of "CIPHERS" please send an email to: T e n @ I n s t a p l a n e t dot c o m
_____________________________________________________________________________ For individual and small quantity purchases, please send your payment of:
$6.95 plus $1.50 shipping/handling per regular copy
or
$8.95 plus $1.50 shipping/handling per signed and numbered copy
by check or money order to: InstaPLANET Press
PO Box 31063
San Francisco, California 94131-0063 USA Please allow ten days for processing your order. Thank you.
---